In the wake of massive layoffs and an unprecedented rise in unemployment claims, a report released today by the People's Parity Project, in conjunction with the Harvard Labor & Worklife Program, reveals that only a minority of states have embraced all available opportunities to expand unemployment insurance (UI) for workers affected by COVID-19.
After surveying 50 states and the District of Columbia, PPP also found that most states' unemployment insurance websites are still providing incomplete or even misleading information about filing for UI during the ongoing public health crisis. Worse still, many states' UI websites have crashed under the avalanche of new unemployment insurance applications.
The report uncovered an urgent need for states to ensure that potential applicants have access to accurate, up-to-date information about their state's policies. Even though some states have responded to the crisis by waiving job search and waiting period requirements, their websites often fail to reflect these policy changes.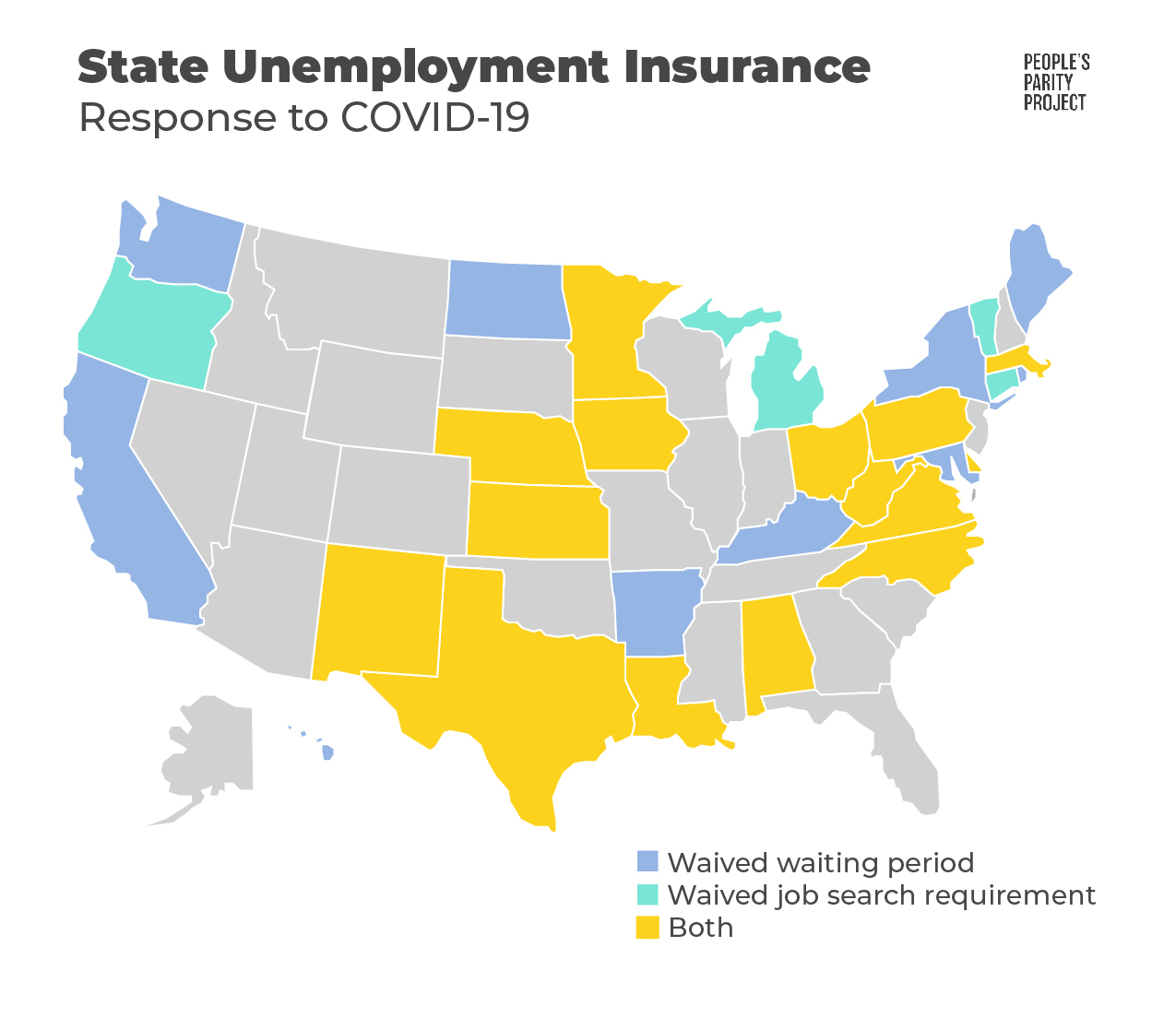 In addition, almost all state UI websites fail to instruct workers who are potentially misclassified as independent contractors instead of as employees that they can still apply for UI benefits. The report cites, for example, a Massachusetts webpage stating that "self-employed individuals and 1099 contract employees are not eligible for unemployment benefits," even though millions of workers across the country are misclassified as independent contractors, and receipt of a 1099 is not a bar to their eligibility.
"The millions of workers who are misclassified as independent contractors are denied basic workplace protections including paid sick time, medical leave, and unemployment insurance," explained Jason Salgado, a law student organizer with PPP and one of the authors of the report. "At this critical moment, it is essential that state governments ensure all workers entitled to those benefits can quickly and easily access them so they can care for themselves and their families."
Record numbers of Americans are applying for unemployment insurance (UI) to make ends meet as the COVID-19 pandemic causes mass layoffs. Last week, 70,000 people filed for unemployment insurance in Pennsylvania in
just a single day
, and Minnesota received
2,000 claims per hour
. These numbers are likely to worsen in the weeks to come.
The recommendations issued today by PPP urge all states to: 
Avail themselves of all permissible expansions to UI benefits,
Publicize these policies on their websites and elsewhere, along with clear application instructions,
Create COVID-19 specific webpages directed at workers who may be seeking unemployment information,
Ensure potential applicants with limited English proficiency have equal access to information, and
Encourage workers who may be misclassified as independent contractors to apply for unemployment insurance.
"Unemployment insurance has always been a critical lifeline for working families, and the current public health crisis has only made that more clear," said Niki Rubin, a law student organizer with PPP and one of the authors of the report. "More than ever, states have a responsibility not only to communicate with the public about their unemployment insurance policies, but also expand access to UI in every permissible way."
Interactive 50 State Survey
Map of Unemployment Insurance Policy Changes