Elie Mystal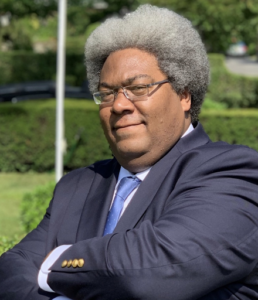 Elie Mystal, is the Justice Correspondent for The Nation, where he writes about politics and social and racial justice. Elie's first book, Allow Me To Retort – A Black Guy's Guide to the Constitution has been on the NYT's bestsellers list for 2 weeks. Mystal was executive editor of Above the Law, a website with around 2,000,000 unique visitors that focuses on law, courts, and justice. He's known for writing about the law and politics, breaking down Supreme Court decisions and up to the minute coverage of Supreme Court confirmation battles.
Off the page, Mystal is a legal contributor to the More Perfect podcast, a Radiolab spinoff, on WNYC. He's appeared regularly on MSNBC since 2018, appearing on All In With Chris Hayes, The Beat With Ari Melber, A.M. Joy with Joy Reid and Up with David Gura. On the Radio, Mystal has been a frequent guest on the Brian Lehrer Show, the Dean Obedallah Show, Signal Boost with Zerlina Maxwell. He's also appeared on The Mike Huckabee Show, the Megyn Kelly Show, Red Eye with Greg Gutfeld, and done various appearances on CNBC and Fox Business about legal industry news.
Mystal received his undergraduate degree in Government from Harvard University, his J.D. from Harvard Law School, and worked as an associate at Debevoise and Plimpton from 2003-2005.
5-4 Pod
5-4 is a podcast about how much the Supreme Court sucks. It's a progressive and occasionally profane take on the ideological battles at the heart of the Court's most important landmark cases, and an irreverent tour of all the ways in which the law is shaped by politics.
Each week, hosts Peter, Michael, and Rhiannon dismantle the Justices' legal reasoning on hot-button issues like affirmative action, gun rights, and campaign finance, and use dark humor to reveal the high court's biases.
Presented by Slow Burn co-creator Leon Neyfakh, 5-4 is a production of Prologue Projects.