Register Now: 2022 Convening
July 8, 2022

-

July 10, 2022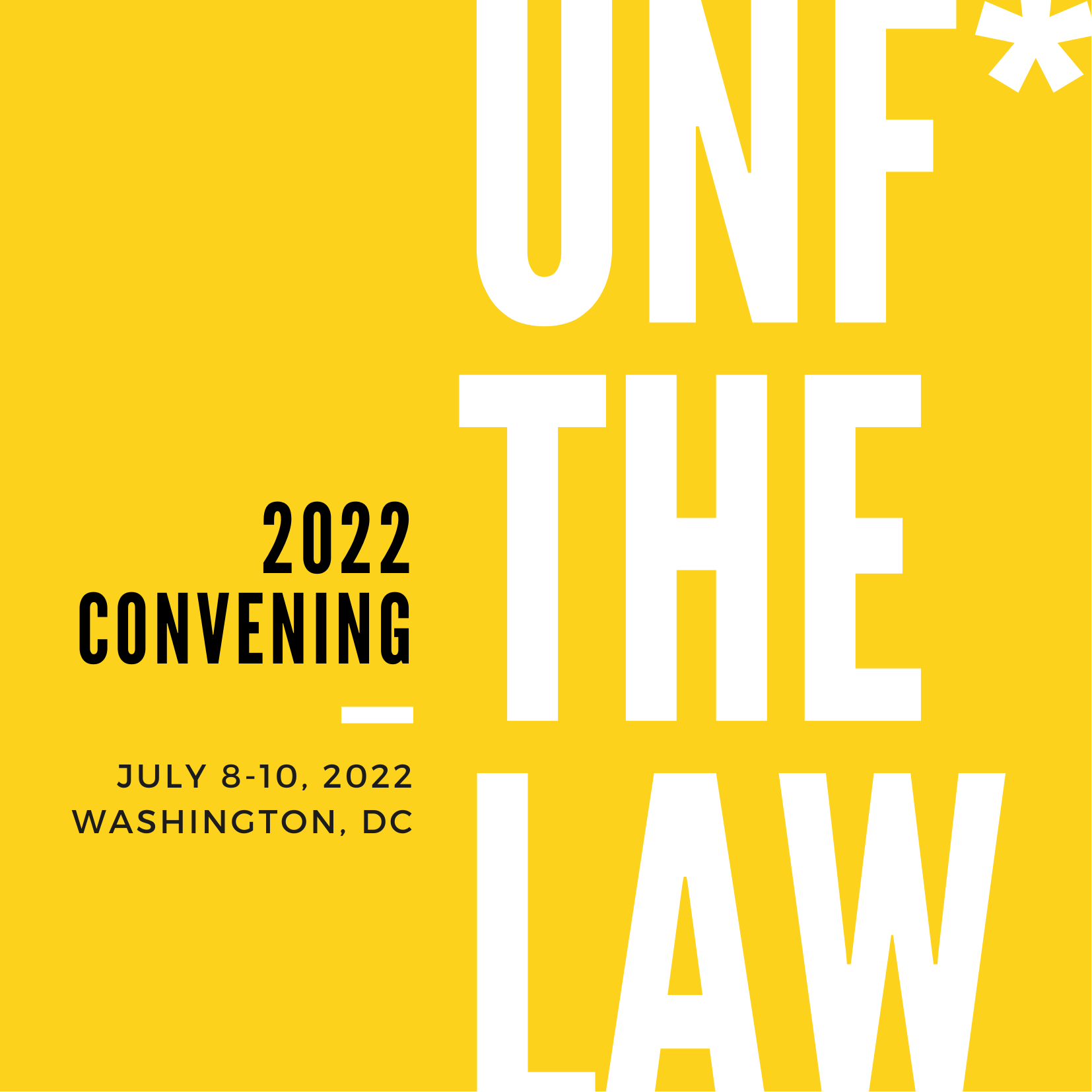 This summer, law students, attorneys, and legal advocates from around the country are joining together to unf*ck the law. From July 8-10, 2022, People's Parity Project (PPP) will convene our progressive community for three days of policy deep dives, skills trainings, and networking sessions — all dedicated to growing the movement of legal professionals committed to unrigging the law and building a legal system that values people over corporate profits. We're delighted to be joined by Elie Mystal as our keynote speaker, 5-4 for a live podcast recording, and panelists who will be covering everything from unionizing legal workplaces to how to organize for state courts that work for people, not corporate profits.
Join us on Friday, July 8th through Sunday, July 10th at the Eaton Hotel in Washington, DC (located at 1201 K Street NW).
The Convening is an opportunity for progressive law students from the classes of 2022 through 2025, attorneys, and advocates to join in our mission to build a better legal system. PPP has three main goals through the event:
To build community among progressive law students, attorneys, and advocates
To provide students and attorneys with concrete skills needed to advocate for change within the legal system, both while in school and beyond
To grow the number of students and attorneys committed to PPP's core issues, including court reform, state court advocacy, and building worker power
Available Ticket Types
Register to join practicing attorneys, legal advocates, and law students from the classes of 2022 through 2025 for a weekend of networking, policy deep dives, skills trainings, and more. Together, we're building a movement to unf*ck the law — see you there.
[Free] PPP organizers *to register as a PPP organizer, please email hello@peoplesparity.org*
$25 students
$50 non-profit / government attorneys and advocates
$75 private practice attorneys
Scholarships are available for the registration fee and the full cost of attendance. For more information, contact hello@peoplesparity.org.
Tentative Schedule
A full program for the 2022 Convening can be found here.
Friday
5:00 Registration opens
6:00 Welcome reception
8:00 Dinner and keynote address
Saturday
8:00 Registration/coffee
9:00 Block A
Building progressive legal power
Building sustainable movements
10:15 Networking or morning plenary
10:45 Block B
Emerging Issues in Workers' Rights
State Court Organizing
12:00 Lunch
1:30 5-4 podcast recording
2:45 Block C
Right to Counsel
Power and role of student activism
3:30 Block D
Unionizing Legal Workplaces
Career Panel
Sunday
8:00 Registration/coffee
9:30 Block E
Organizing 101
11:00 Breakout groups and campaign planning
12:30 Debrief and closing
Elie Mystal
Elie Mystal, is the Justice Correspondent for The Nation, where he writes about politics and social and racial justice. Elie's first book, Allow Me To Retort – A Black Guy's Guide to the Constitution has been on the NYT's bestsellers list for 2 weeks. Mystal was executive editor of Above the Law, a website with around 2,000,000 unique visitors that focuses on law, courts, and justice. He's known for writing about the law and politics, breaking down Supreme Court decisions and up to the minute coverage of Supreme Court confirmation battles.
Off the page, Mystal is a legal contributor to the More Perfect podcast, a Radiolab spinoff, on WNYC. He's appeared regularly on MSNBC since 2018, appearing on All In With Chris Hayes, The Beat With Ari Melber, A.M. Joy with Joy Reid and Up with David Gura. On the Radio, Mystal has been a frequent guest on the Brian Lehrer Show, the Dean Obedallah Show, Signal Boost with Zerlina Maxwell. He's also appeared on The Mike Huckabee Show, the Megyn Kelly Show, Red Eye with Greg Gutfeld, and done various appearances on CNBC and Fox Business about legal industry news.
Mystal received his undergraduate degree in Government from Harvard University, his J.D. from Harvard Law School, and worked as an associate at Debevoise and Plimpton from 2003-2005.
Chris Smalls
Christian Smalls is the founder and president of the Amazon Labor Union, an independent, democratic, worker-led labor union at Amazon in Staten Island. He is also the founder of The Congress of Essential Workers (TCOEW), a nationwide collective of essential workers and allies fighti
ng for better working conditions, better wages, and a better world. Smalls was formerly an Amazon warehouse supervisor, helping open three major warehouses in New York, New Jersey, and Connecticut during his five years with the company, but he was fired in 2020 after organizing a protest against the company's unsafe pandemic conditions. Both his firing and the unsafe conditions have become the subject of an ongoing lawsuit by New York Attorney General Letitia James. Smalls has been profiled by media outlets worldwide, including The New York Times, USA Today, The Guardian, The Wall Street Journal, CNBC, CBC Radio, Salon, and Jacobin. He lives in Hackensack, New Jersey.
5-4 Pod
5-4 is a podcast about how much the Supreme Court sucks. It's a progressive and occasionally profane take on the
ideological battles at the heart of the Court's most important landmark cases, and an irreverent tour of all the ways in which the law is shaped by politics.
Each week, hosts Peter, Michael, and Rhiannon dismantle the Justices' legal reasoning on hot-button issues like affirmative action, gun rights, and campaign finance, and use dark humor to reveal the high court's biases.
Presented by Slow Burn co-creator Leon Neyfakh, 5-4 is a production of Prologue Projects.
Tier One
Tycko & Zavareei LLP
Outten & Golden
Tier Two
Demand Justice
Sugerman Dahab
Tier Three
American Association for Justice
Indivisible
Cohen Milstein
Tier Four
Alliance for Justice
Public Justice
Lieff Cabraser Heimann & Bernstein
Take Back the Court
SEIU
Nichols Kaster
National Council of Jewish Women
Concerted Action
For more information or to sponsor the Conveing, please email Molly Coleman at molly@peoplesparity.org or Monica Samanta at monica.samanta@gmail.com.
Hotel accommodations can be found at the Eaton https://www.eatonworkshop.com/.
Attendees will receive their discount code for the hotel after registration.
Attendees are, of course, not required to stay at the Eaton, but that's where the majority of convening events will take place.