to save democracy, we must
Adding seats to the Supreme Court is the only practical, proportional response to Republicans' theft of this institution and the only way to restore its balance and integrity.
Today, we can meet this crisis thanks to the introduction of The Judiciary Act of 2021—which would add 4 seats to the Supreme Court, immediately unpacking the stolen Court.
What even is court expansion?
Expanding the federal courts by adding seats to the Supreme Court, federal appellate courts (also known as the Circuit Courts), and federal trial courts (also known as the District Courts).
First, to undo the theft of the judiciary and Supreme Court in particular and reverse the reactionary shift caused by Trump, McConnell, and the Republican Party.
Second, to increase access to justice by increasing the number of judges able to hear cases. Currently, there are about 700 federal trial judges and 150 federal appellate judges for 328 million Americans.
Excepteur sint occaecat cupidatat non proident, sunt in culpa qui officia deserunt mollit laborum. Sed ut perspiciatis unde omnis.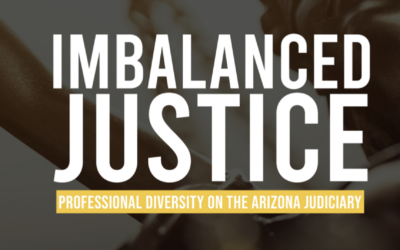 Today, the People's Parity Project released a report assessing the professional diversity on the Arizona bench, finding a stark underrepresentation of judges with pro-people backgrounds. Our new research shows that judges in Arizona, like so many other states, reached...
read more